Do you have an asphalt driveway?
Then, You must be familiar with the trouble of getting potholes in it. While you may be too familiar with the causes, you might not know how to fix it.
This blog will detail the top Pothole Repair Methods / Asphalt Paving Methods to restore your driveway.
Asphalt is all too common across Toronto when it comes to driveway repairs. People opt for the material for its durability, affordability, and easy accessibility. Further, many people love the blackish finish they get with an asphalt surface.
While potholes are natural in an asphalt driveway as it ages, getting the right contractor can fix the problem before it becomes a cause for concern.
Main Infrastructure has the right experts and specialized Pothole Patching Machines to address all the issues for driveway restoration.
Here we tell you about the best Pothole Repair Methods in Toronto we often use for our clients' projects.
Pothole Repairs Methods to Fix an Asphalt Driveway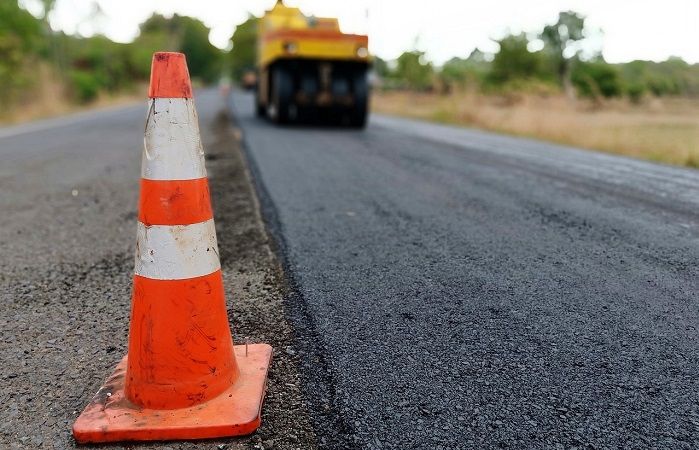 Potholes can be a roadblock in the beauty of your entire driveway or pathway.
At Main Infrastructure, we use the right techniques to reverse the already done damage with the help of our Asphalt Repair Patching Machines.
Further, our cutting-edge technology ensures work results are structurally sound and aesthetically pleasing.
With that said, let's dive right into the most commonly used Pothole Repair Methods in Toronto.
#1.

Asphalt Paving
This is the easiest and most practical way to repair a worn-out asphalt driveway. Potholes, whether big or small, can easily tarnish the look of the entire asphalt driveway surface.
Asphalt Paving Methods usually make use of hot mix asphalt to pave the surface. Paving is not just a typical repair or crack sealant. Rather, it restores the area completely with a new look. Thus, this method not only fixes the damage but also gives a finished look to your driveway.
Only an expert knows the correct procedure and steps to carry out the paving work. We use top-quality pavers to carry out the task and ensure the final work is seamless and satisfies your desires.
Main Infrastructure offers residential, municipal, and industrial paving to customers in Toronto and GTA.
#2.

Infrared Asphalt Patching
Infrared technology is an effective solution to all your asphalt repair problems. It takes much less time and is less expensive as well. The method uses radiation to remove the damaged asphalt. After the removal, contractors install new asphalt material.
Subsequently, contractors carry out proper compaction of material to create a thermal bond to the surrounding areas. This bonds the patch with the undamaged areas and creates a seamless final look.
Though this method is not widely known in Toronto, we aim to educate people on its use in repairing asphalt surfaces.
In comparison to conventional asphalt repair services, this method offers an upgraded and an easier way to repair damaged asphalt.
Main Infrastructure has expertise in using this state-of-the-art technology. Moreover, we've experts to inform you about all the Asphalt Patching Techniques to make your experience with us fulfilling.
#3.

Pothole Spray Patching
This is a versatile repair method used to repair different kinds of cracks and damages. This technique is often used in the repair of alligator cracks, cupped cracks, and utility cuts.
It combines hot asphalt emulsion with crushed aggregate. Then, this mixture is injected into the pothole using forced air. The biggest advantage of this repair method is its durability. Moreover, the commute can begin immediately on to the repaired areas.
The method also ensures water doesn't seep into the affected areas by applying a coat of hot asphalt emulsion prior to repairs. This prevents further damage before contractors complete repair work.
Pothole Spray Patching is useful to repair potholes in any weather conditions. And apparently, there is no need to excavate the pavement area.
So, this was all about the best methods to repair potholes. Pothole repairs that last need the hands of experts and is not a DIY thing to do.
Do You Have Potholes in Your Driveway?
Get in touch with Main Infrastructure for best-in-class asphalt repair services. We have the right personnel team and machines to fulfill every need of your construction and maintenance project.
Our team is well versed in the industry and knows how to fulfill the requirements of each client's project. Apart from all kinds of asphalt repairs, we also offer:
Installation of drainage and stormwater systems
A thorough inspection of the area and installation of the suitable base materials
Excavation work
Our representatives can provide the right asphalt paving cost estimate after a quick walk-through of your driveway.
Get in touch with us @ +1 (416) 514 0809 to know more.
RELATED ARTICLE: https://maininfrastruscture-26.webself.net/blog/2020/01/08/asphalt-driveway-repair