Telehandlers and forklifts have found use across a number of industries, including construction and warehousing. But the common trend you will notice is industry people often use the terms synonymously.
While experts know the exact use of each equipment, many inexperienced people can't establish the difference.
This has led to the belief that both of these are similar equipment, which is a big fallacy.
Whether you're renting or buying Telehandler or Forklift for Sale, you need to know the difference. You want the equipment you end up choosing to fit your requirements, right?
This short and quick guide is here to help you. Here, we've bifurcated Telehandlers and forklifts to find out how they differ.
So, you can choose the one that meets your practical purposes.
Telehandlers vs Forklifts – What Are the Differences?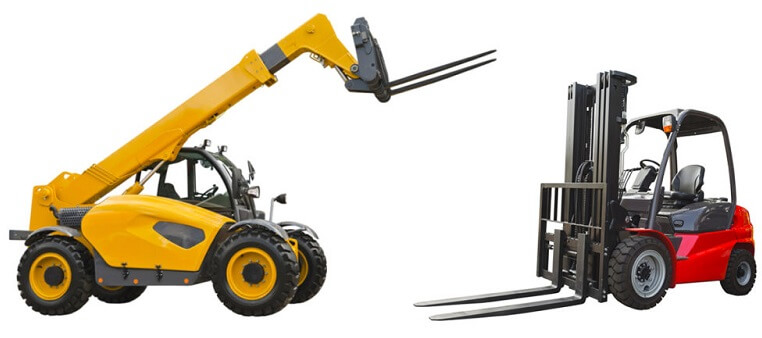 In general, both these pieces of equipment are multi-functioning and serve a wide range of purposes. They make the day-to-day industrial tasks easier and cut time in managing many operations.
But here are the leading factors differentiating telehandlers and forklifts.
#1. Versatility
Telehandlers are much more versatile when compared to forklifts. Well, both are often used to lift objects.
Well, telehandlers are much more useful when you want a 365-degree turning radius. Whereas, forklifts usually lift any load vertically.
A telehandler's boom allows it to lift objects without moving anything other than its boom. You can also attach accessories to it and use it as a telehandler and aerial platform.
#2. Outdoor Terrain
Well, both forklifts and telehandlers are used outdoors. Though, the latter one is much more suitable when you're operating on an uneven surface.
Telehandlers have a better grip on rocky or sloped surfaces. Thus, they also offer more stability than forklifts. So, if the job involves rough terrain, buying Telehandlers for Sale is a better investment.
#3. Size and Compactness
Forklifts are smaller in size when compared to telehandlers. As a result, their compact size enables their use in narrow spaces.
So, if the project involves working with something that's fairly easy to move, forklifts are the best choice.
#4. Functionalities and Capabilities
Both telehandlers and forklifts help in lifting and moving loads. However, the limits within which both of them can perform differently.
Forklifts have forks that can only lift loads up and down and up to a few feet. On the other hand, telehandlers have booms and you can use different attachments to serve different purposes.
You can attach them with hooks, pallet forks, and buckets. Plus, telehandlers can reach up to 30 feet.
Here the Telehandlers vs Forklifts comparison ends!!
So, which one do you think fits your goals better? 
In general, a telehandler is a much more suited option if you want the equipment to work like a mini-crane. Telehandlers have a wider scope when it comes to functionality.
On the other hand, forklifts are a reliable choice to operate in warehouses and have more control.
Whether you want Telehandler Rental services or want to buy or rent a forklift, Torcan Lift is here for you!
Torcan Lift Offers Top-Notch Equipment That Fits Your Budget!!
We offer the latest model equipment to make your work easier and faster. Torcan Lift has everything you would need to achieve the goals of your project.
We have a wide range of personnel lift and material handling machinery ready to go as soon as you are.
Moreover, our easily accessible Telehandler and Forklift Rental services allow you to meet your equipment needs right away!
However, you can also choose to own a telehandler or forklift we offer on sale.
Why Choose Us:
On-site consultation service to understand your needs
Delivery and pick-up facility
Leasing and financing options
Regular follow-ups and inspections
Furthermore, we've been offering Forklift Training to give rise to an adept workforce for forklift jobs.
For further inquiry about buying or renting equipment, get in touch with us @ 416-743-2500.