If you've spent any time researching solar energy, by now you must have heard of different types of solar inverters. 
The Inverter is like your solar system's brain. It manages the power flow between the solar panel array and your home appliances.
DC (Direct Current) power is the kind stored in batteries. It's also the kind produced by solar panels.
However, you can't use DC power directly to power anything in your home. That's where your inverter comes in.
Everything in your home uses AC (alternating current) power. A solar inverter converts DC power from your panels (or from batteries) to AC.
So, energy is available for direct use by the fridge, lighting, TV, and other household appliances.
Here, we'll discuss the types of solar inverters and some leading brands…
Different Types Of Solar Inverters for Your Home
There are a few different types of solar inverters. 
They differ significantly in cost and function and can offer flexibility to those with renewable energy setups.
Off-grid

:

An off-grid inverter doesn't connect to the public grid and instead operates as a self-contained system for home power.
It converts DC power running from the solar panels to AC electricity that you can use to power appliances.
Beware that this type of solar inverter is NOT for grid-ties.
Micro

:

A micro inverter is only paired with a single solar panel. This means that every individual panel will have its own inverter.
This is a great option for those looking to expand their systems later on or monitor each panel individually.
The downside is you'll need to purchase multiple units to service a full solar array.
Hybrid

:

A hybrid inverter is a vast new addition to new solar technology.
It unites solar inverters with batteries, allowing you to store surplus power.
This all-in-one model is great for those who want the flexibility to connect and disconnect from the grid as they please. 
String

:

A string solar inverter links several solar panels together into a series. They are generally the least expensive option out there.
While they are great in the right conditions, a single panel can shut down your whole system if it fails.
They should only be used in full, direct sunlight that's unobstructed to prevent unintentional failure.
Now, let's have a look at some of the best solar inverter brands available for you to buy these inverters from.
Best Solar Inverter From Leading Brands
There are many popular inverter brands highly regarded by solar installers.
We discuss some top ones in the section below:
#1:

SMA Solar Inverters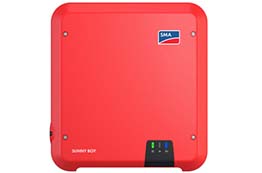 SMA solar technologies is a German company with a proven track record of providing dependable and high-quality solar products and inverters.
One of the most well-liked inverters manufactured by SMA is Sunny Boy inverters with an average efficiency of 97%.
SMA inverters usually offer a 5-year warranty with the option of extending the warranty to 10, 15, and 20 years depending on the model.
The warranty includes all the cost of shipping and on-site replacement in case of an unlikely event of failure.
Have a look at the SMA Inverter Prices to estimate total expenses.
#2:

Fronius Solar Inverters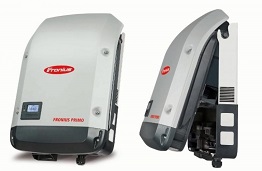 The Fronius Primo Inverter is the most well-liked in its range.
The greatest thing about the inverter is the in-built cooling system which elevates the reliability and durability of the inverter.
Customers like Fronius inverters because of its high quality, performance, good monitoring features, and fantastic customer services provided by Fronius.
Its average efficiency ranges from 97 to 98%. 
Eventually, this helps to raise the efficiency of the complete system.
The Fronius Solar Inverter Price depends on different factors but the quality deserves the investment.
So…
Are You Looking For Best Solar Inverter Installer NSW?
Choose SOLAR BEAM!
Solar beam, the Best Solar Panel Installer NSW, offers you top inverters brands at an affordable price.
Our clients appreciate us for customer-friendly services as we put their requirements and concerns as priorities. 
We provide tier-1 brands of solar inverters sourced directly from the top manufacturers. Our range includes ABB, SolaX, Fronius, and SMA inverters. Plus, we offer a 10 years extended warranty on selected inverters. 
To know more about our services and range of solar products, get in touch with us @

1300-004-077.