Can rain on a new driveway cost you a real deal?
Rain and Asphalt – Well, the durability of your asphalt paving or driveway completely depends on the weather conditions.
The material used during the paving is vulnerable to extreme weather conditions even when it has been laid!
That's shocking right?
Let's shock you a little more!
Rain is considered to be one of the worst enemies your asphalt can ever have.
It obviously forms an obstacle in your way of construction, but there is much more that you must know.
Rain on fresh asphalt or even on the ones which have been laid for a year now does quite a remarkable damage.
Thus, we have curated this blog to guide you through the disadvantages you can face of raining on your laid asphalt.
We will also move our focus towards the different preventive measures you can take to prevent this damage from happening.
Now, since we already know that rain can move the minute inches of your asphalt foundation, it can also cause bigger potholes and cracks to form.
Thus, let us understand more about the damages that the rain brings with itself!
Will rain affect your newly laid asphalt driveway?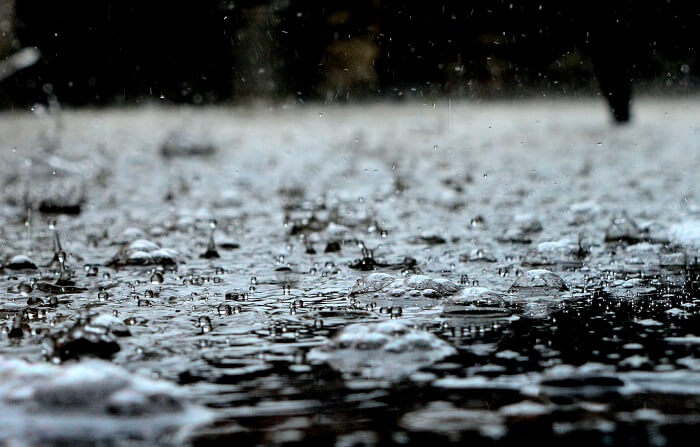 Its time to take your question – will rain damage my new asphalt driveway, a little seriously!
Asphalt is a strong material that is obviously not hampered by the light rain.
But can we say the same for heavy rains?
No!

When the water has enough time to settle on asphalt it creates huge damage.
So, you see the real danger comes from waterlogging.
Waterlogging eventually ends up creating huge potholes and cracks in the road.
The problem begins when water causes oil to separate from asphalt.
Asphalt is a material formed by combining bitumen and gravel.
Raining causes the oil to force up!
You must also have seen oil seeping out from the roads wet with rainwater.
But the question here is what happens when this oil seeps out and is no longer available with the asphalt.
Let us answer that for you!
What happens when oil seeps out of asphalt paved driveways?
As you know, rain on new asphalt driveway as well as the old one causes separation of asphalt with oil.
This causes:
The gravel is exposed from the driveway
Rainwater eventually is soaked up by asphalt and it expands beneath the surface
Development of cracks and potholes in the driveway.
But these scenarios can be prevented by taking a few measures.
We will study these preventive measures in the following section.
How can you prevent asphalt from rain damage?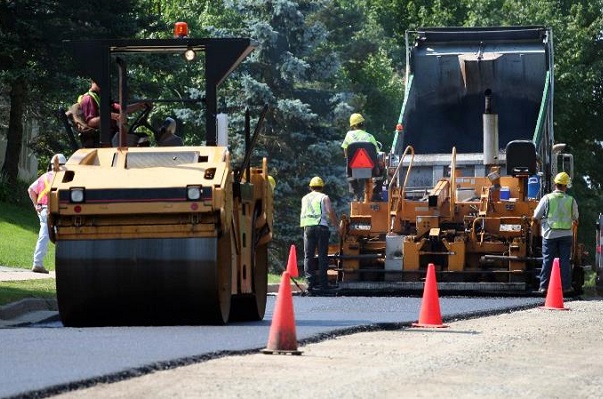 Now as we know that the problem begins with waterlogging, it is important that we prevent the accumulation of water on the surface.
This is only possible if you cover the asphalt from above.
But it is obviously not practical in larger areas.
So what can you do?
Well, you still have many options like a proper drainage system!
Another important factor can be the sloping design of your driveway paving.
Let us show you some steps that you can follow for preventing rain damage.
Steps to prevent rain damage
Install a water drainage system with the help of an asphalt construction company
Covering the surface during heavy rains
Try crack sealing with asphalt to prevent water from entering into the asphalt.
Let us look at these measures closely
#1. Water drainage system
Contractors use slopes to create a perfect drainage system which will not allow any stagnant water to collect on the surface
#2. Asphalt Crack Sealing
A hot rubber sealer is used to seal the minor cracks which can let water seep into the remaining asphalt.
Now, where can you get such services and which company can you contact for repairing your potholes?
Here we have a solution!
MAININFRASTRUCTURE – A solution for all your needs!
We are a Toronto based company and are quite famous for the asphalt maintenance services we provide.
We have got a number of services, just a click away from you!
What services do we offer?
We have got a range of services lined up:
Pothole spray patching
Infrared asphalt patching
Asphalt crack sealing
Sweeping services
And a lot more…..
Thus, no matter what problems you are facing, we are always here to help you.
You can reach us at +1 (416) 514 0809
Or visit our official website for more details.