What are the Best Hair Vitamins for Longer and Stronger Hair?
You must be wondering about questions like these to deal with your hair problems.
Problems with hair health are quite common nowadays.
The reason is the increasing number of stimulants that affect your hair health adversely.
However, you can protect your hair from damages by adopting various techniques.
Supplementing your diet with vitamins for hair growth and thickness is one of them.
Healthy lustrous hair adds up to your beauty irrespective of your gender.
Although the texture and growth of your hair majorly depend on your genetics. But, you can have it in your control through proper nutrition.
A healthy diet rich in essential vitamins and minerals will keep your hair healthy. Furthermore, you can also try hair growth pills that actually work.
Before moving on to them, let's have a look at the Best Hair Vitamins for Hair Growth.
Best Hair Vitamins for Longer and Stronger Hair
Vitamins play a vital role in all body functions. Let's see which vitamins are the best for hair growth.
#1

Vitamin A
Vitamin A is necessary for all the cells and tissues in the body to grow.
Being the fastest growing tissue of our body, the hair also needs a decent amount of Vitamin A.
Vitamin A helps in the production of sebum in the skin glands. Sebum is an oily substance that moisturizes the scalp and keeps your hair healthy.
The deficiency of Vitamin A in your diet may lead to several problems including hair loss.
To avoid such problems, stuff your diet with foods such as sweet potatoes, carrots, spinach, kale, and animal foods.
However, it is sometimes difficult to fulfill the requirement through diet. In such cases, you may use Vitamin A supplements.
Furthermore, milk, eggs, and cod liver oil are the top sources of Vitamin A.
#2

B Vitamins
According to studies, B Vitamins, especially biotin have a strong link with your hair health.
The B vitamins help the production of red blood cells in the body. These cells carry oxygen to all the parts of your body including the scalp.
The proper oxygen and nutrition supply to the scalp improves the strength and texture of your hair.
Biotin is an active component present in hair loss treatments.
Although you'll hardly find cases of biotin deficiency. It is because biotin is present in a wide range of foods.
Biotin-rich foods include leafy green vegetables, fish, seafood, almonds, meat, and whole grains.
However, for Vitamin B12, animal foods are the only good sources.
Hence, you need to consider taking a supplement if you are vegetarian or vegan.
#3

Vitamin C 
Free radical damage is responsible for stunting your hair growth. Also, it causes premature aging of hair.
Vitamin C is a strong antioxidant that has the power to reduce the damage caused by free radicals.
Vitamin C also aids collagen production inside the body. Collagen constitutes an essential part of your hair structure.
Also, this vitamin helps your body to absorb minerals such as iron. It is necessary for hair growth.
However, it's not a tough task to provide your body with enough vitamin C.
It is present in strawberries, pepper, guava, and all citrus fruits.
Vitamin C is also among the Best Hair Vitamins for Longer and Stronger Hair.
So, that was all about hair growth vitamins for natural hair.
Now, it's time to find out the best hair growth supplement for hair growth and thickness.
The next section deals with three premium hair growth supplements. Go through their introduction and decide for yourself.
Best Hair Growth Supplements of All Time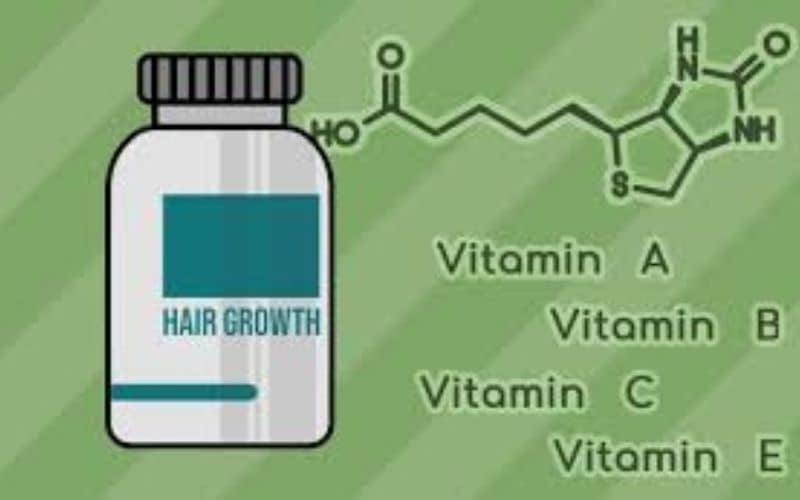 When the conventional diet and nutrition do not work, it's time to switch to supplements.
The three best hair growth supplements are:
#1

Har Vokse
Har Voske is a hair supplement that prevents your hair from falling and thinning.
It has a powerful natural formula that includes Hydrolyzed marine Collagen, Amla Extract, Biotin, L-Cysteine, L-Arginine, and Tripeptide Copper.
Har Vokse Before and After results suggest that this formula is quite effective in restoring the natural strength and shine of your hair.
The next supplement on the list is Profollica.
#2

Profollica
Profollica is a new-age hair recovery formula for men. It also promotes hair quality.
The formulation includes Biotin, Maidenhair Fern, Millet Extract, L- Cysteine, and a variety of other natural and powerful ingredients.
According to the Profollica Review, it is a top-quality product with 100% satisfactory results.
Now the last supplement is Provillus.
#3

Provillus
Provillus is a hair treatment formula that helps to reverse hair thinning and receding hairline.
It has a composition that includes ingredients like Biotin, Minoxidil, Magnesium, Vitamin B6, and Para-amino Benzoic acid.
There is a subtle way how Does Provillus work. It's quite different from other supplements.
However, there are a number of other supplements available in the market.
But these three give the best results among them.
As we've got the whole idea about the Best Hair Vitamins for Longer and Stronger Hair.
Also, we have introduced ourselves to three of the best hair growth supplements.
Now, we can move towards concluding the blog.
Conclusion

 
The above content gives us an idea about the best hair vitamins for longer and stronger hair.
Also, which vitamin deficiency causes hair loss?
Loading our diet with these essential vitamins can reduce the risk of hair damages.
If you're already suffering from some kind of hair problem, then you must try a hair growth supplement for the rescue.
Har Vokse, Profollica, and Provillus are among the best hair growth supplements to try.